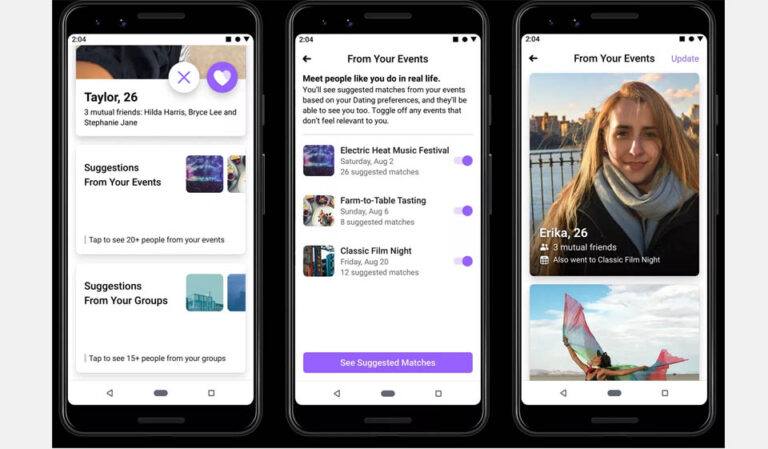 Hey there, social butterflies and hopeless romantics! Have you ever swiped left on countless dating apps, only to find yourself drowning in a sea of mediocre matches? Well, hold on tight because Facebook – yes, that Facebook – has shaken up the game with its very own dating feature. 🥳 But here's the million-dollar question: Is it finally the golden ticket to finding your one true love or just another virtual circus of cheesy pick-up lines and catfish encounters?
Time to put our detective hats on and uncover what Facebook Dating truly offers in this mad world of online romance. You ready? Let's dive into this digital love labyrinth head first – no floaties needed! 💔💘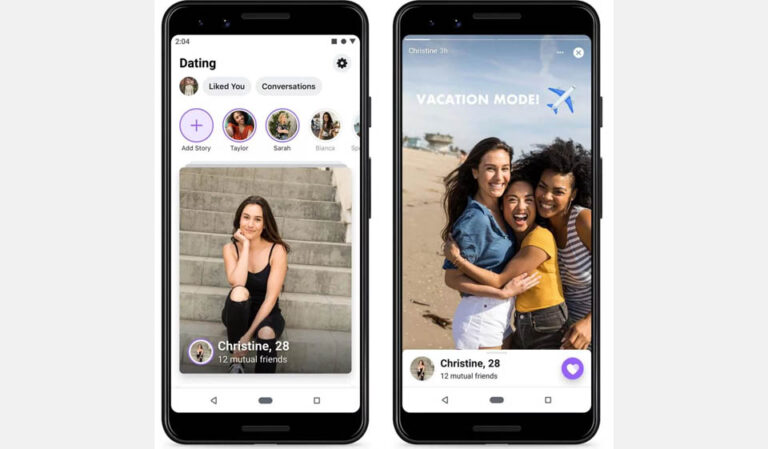 Pros & Cons
Pros
– Facebook Dating is completely free, so you don't have to worry about paying for subscription fees.
– The Secret Crush feature allows you to discreetly express your interest in someone from your friends list, making it a fun addition to traditional dating apps.
– With easy access through the Facebook app, you can seamlessly switch between scrolling through your News Feed and finding potential matches on Facebook Dating.
– It provides a secure dating app experience by integrating with Facebook's existing privacy measures and verifying users' identities.
– You can confidently rate other people's profiles on Facebook Dating using their rating system, helping you make more informed decisions when looking for a potential partner.
Cons
– Limited number of features compared to other popular dating apps.
– Matching algorithm and suggestions are not always accurate or relevant.
– Privacy concerns as Facebook Dating is integrated within the main Facebook app.
– Lack of active users and limited pool of potential matches in some areas.
– Inability to access Facebook Dating without a Facebook account, limiting its user base.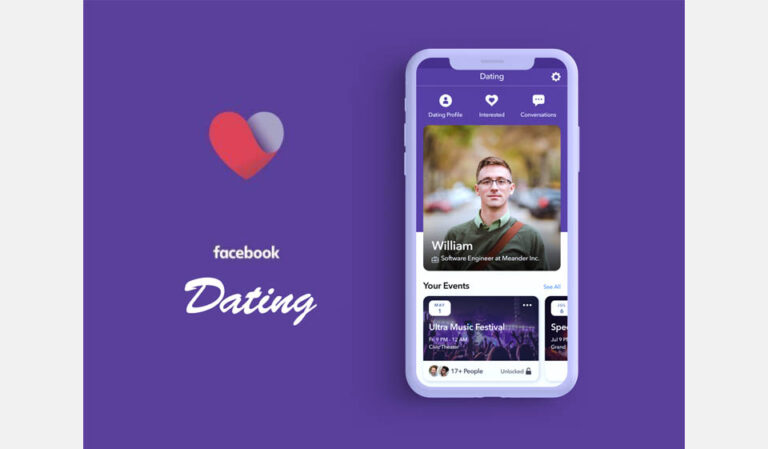 Signing up
The registration process for Facebook Dating is a simple and straightforward one. To begin, you must be at least 18 years old to create a dating account on the platform. Keep in mind that the minimum age requirement may vary depending on your location due to local laws and regulations.
To activate Facebook Dating, follow these steps:
Launch the Facebook mobile app: Open the Facebook app on your smartphone or tablet. Ensure that you have already set up a regular Facebook account beforehand because Dating operates within the existing Facebook ecosystem.

Navigate to the dating section: Tap on the menu icon (three horizontal lines) located at the top right corner of your screen. Scroll through until you find "Dating.

" It often appears as a heart symbol.

Create your dating profile: You will need to fill out some basic information about yourself, such as your gender identity and preference, location, and other details related to who you are and whom you are looking for within this feature.

Add photos to showcase your personality: Choose some appealing pictures from either your existing photo library or take new ones specifically for this purpose. Remember to select images that represent who you truly are.

Customize additional preferences: Adjust specific settings like distance and age range according to what suits your dating preferences best.

Craft an introduction message (optional): If desired, write an engaging introduction message that briefly describes yourself or highlights any unique traits that might catch someone's attention when browsing profiles.
Once these steps have been fulfilled satisfactorily, congratulations! Your Facebook Dating account is now activated and ready for use!
It's essential to note that utilizing Facebook Dating does not come with any separate costs; it is entirely free of charge if you already have a standard Facebook account established. This allows users access to all its features without requiring any additional payments or subscriptions tied solely to this particular service alone.
With everything in place, feel free to explore potential matches using Facebook Dating's user-friendly interface. You can like or comment on individuals' profiles, strike up conversations, and seek meaningful connections within the dating community.
In conclusion, activating your dating account on Facebook is a hassle-free process available to those who meet the minimum age requirement of 18 years old. This feature offers access to multiple functionalities without any additional cost beyond having a regular Facebook account already established. Enjoy meeting new people and discovering exciting connections through this social media giant's built-in dating platform!
You must have a Facebook account to activate Facebook Dating.
Activate Facebook Dating by creating a separate dating profile within your existing Facebook account.
There is no additional cost for using Facebook Dating; it is free for all Facebook users.
Complete your dating profile with information such as your gender, location, interests, and preferences.
Upload at least one profile picture for your Facebook Dating account.
Privacy settings on your main Facebook account might affect who can see your dating profile, so review and adjust those accordingly.
Access Facebook Dating through the dedicated "Dating" tab on the Facebook mobile app or website.
Engage in interactions, matches, and conversations with other Facebook Dating users once your dating account is activated.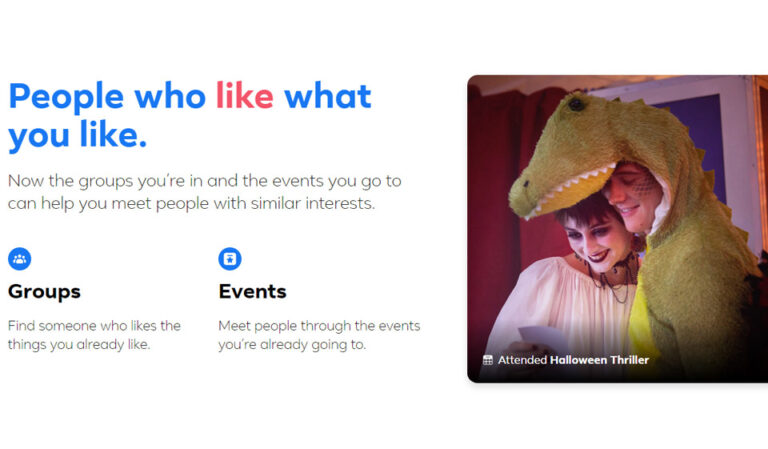 User Profiles
Facebook Dating offers user profiles that provide information about individuals who are using the platform to find romantic connections. These profiles are public, meaning other Facebook Dating users can view them. However, only people who have also activated Facebook Dating can see dating profiles.
When creating a profile on Facebook Dating, users have the option to set a custom bio where they can describe themselves and their interests. This allows individuals to showcase their personality and preferences, helping potential matches get to know them better.
Location information is included in each profile, displaying the city or town of the user. While this location information cannot be hidden entirely, users do have control over whom it is visible to.
There's an option that enables hiding the distance between you and other users for privacy reasons.
To assist with finding compatible matches nearby, Facebook Dating shows an indication of the distance between two users. This feature helps facilitate connections with people within a reasonable proximity.
For users who opt for a premium subscription called "Facebook Dating Plus," there are some additional benefits available. Subscribers enjoy features such as getting access to more daily likes, viewing added insights about compatibility with potential matches before matching, and gaining the ability to undo accidental skips or rejections.
Regarding fake profiles on Facebook Dating, while efforts are made by the platform to detect and remove such accounts, it may still encounter some fraudulent activity like any social media platform. Users should exercise caution when interacting with others online and report suspicious accounts if encountered.
In terms of account privacy settings in general on Facebook Dating, users have various options available to ensure they feel secure while using the service. These settings allow individual control over aspects like blocking certain individuals from seeing their dating profile or even muting someone if needed.
Facebook provides added security measures by allowing extra options such as enabling two-factor authentication for login purposes through Google Authenticator or SMS code verification during sign-in processes alongside existing regular Facebook login methods.
Overall, Facebook Dating offers public user profiles viewable by other participating users. With customizable bios, location information, and indications of distance between profiles, individuals have the tools to present themselves authentically while seeking potential romantic connections.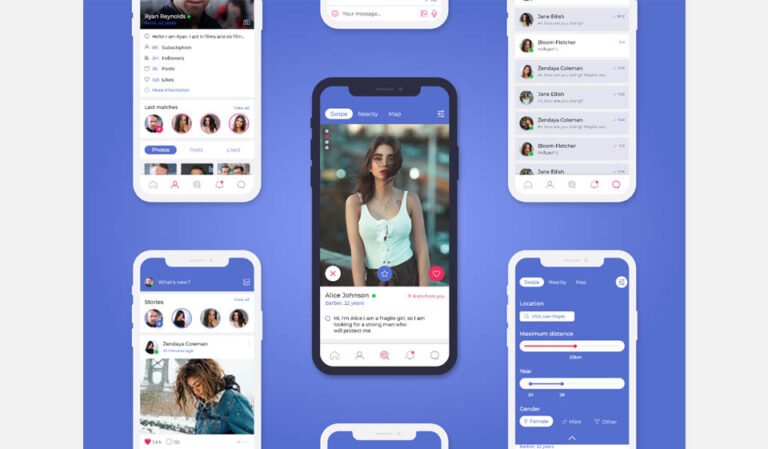 Similar Sites & Apps
While Facebook Dating offers a convenient platform for romantic connections, those seeking alternatives can explore numerous other dating sites that cater to different interests and preferences. Whether it's specific hobbies or shared lifestyles, niche dating sites like Match.com or EliteSingles can provide alternate avenues to find compatible partners.
Tinder: one of the most popular dating apps worldwide, offering a large user base and various features.
OkCupid: a well-known dating site and app that uses advanced algorithms to match users based on their compatibility.
Bumble: similar to Tinder, it allows users to swipe through profiles, but with the additional feature that women must initiate conversation.
eHarmony: a popular dating platform that focuses on creating long-term relationships, using a detailed questionnaire to match individuals.
FarmersOnly: an example of a niche dating site catering specifically to farmers and rural communities.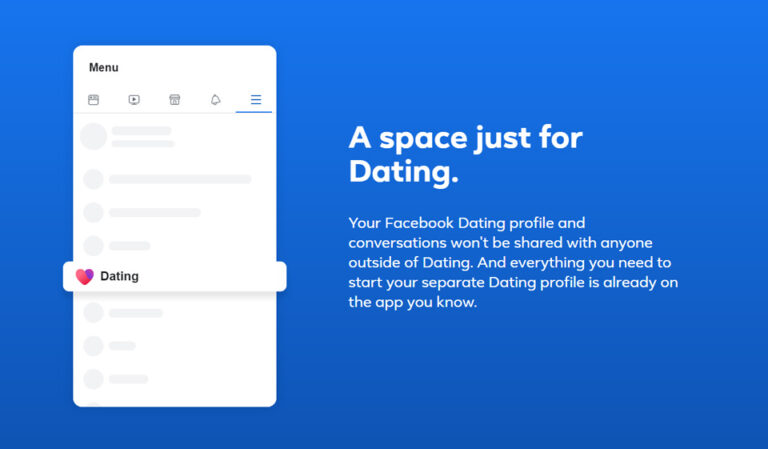 Design & Usability
The colors and design of Facebook Dating exude a visually engaging and sleek experience. Sporting shades of blue and white, the platform's color scheme is consistent with the familiar branding found throughout the social media giant's network. The carefully crafted design strikes an ideal balance between modern aesthetics and intuitive functionality.
Upon logging into Facebook Dating, users are welcomed by a well-organized interface that caters to easy navigation. The layout boasts clear sections dedicated to different features such as Matches, Conversations, Likes, Events, and Groups. With distinct icons accompanying each category tab, it allows for effortless browsing across various areas of interest within the dating realm.
Usability is undoubtedly one of the standout features of Facebook Dating. As a user-friendly platform, it ensures a seamless experience from start to finish. Creating a profile is straightforward; all essential information can be entered in one centralized location — allowing individuals to present themselves genuinely through bio snippets, photos gallery uploads, shared interests, and more.
Perusing potential matches proves equally hassle-free thanks to the platform's swift swiping motion reminiscent of popular dating apps like Tinder. Users can effortlessly navigate through profiles presented in a card-style format and indicate their level of interest promptly with either a "like" or passing on prospects based on their displayed profile pictures and additional details underneath.
Facebook Dating effortlessly integrates its pre-existing algorithmic capabilities into its dating feature set—tailoring recommendations based on mutual friends or shared interests while avoiding any overlap with current connections or groups attended together elsewhere on Facebook—a boon for privacy-conscious individuals seeking new romantic connections without undue exposure within existing social circles.
As expected from a comprehensive dating service offered by an established tech giant like Facebook, most basic functions remain accessible free-of-charge—adding significant value to those looking for casual interactions or simply exploring what this vibrant community has to offer.
However, opting for paid subscriptions opens up further possibilities for enhanced usability through advanced UI improvements such as priority matching algorithms or additional filters promoting tailored and more refined partner suggestions. These premium features serve to provide a more focused, efficient dating experience for individuals committed to finding meaningful connections within the Facebook Dating ecosystem.
In conclusion, Facebook Dating meshes a visually enticing design with user-friendly functionality seamlessly. The platform truly shines through its effortless usability, making it easy for users to navigate and interact with diverse profiles. Whether seeking casual encounters or long-term relationships, this dating service offers an inviting interface paired with remarkable accessibility—a testament to Facebook's commitment in delivering an engaging and intuitive dating experience that caters to a broad range of individual preferences.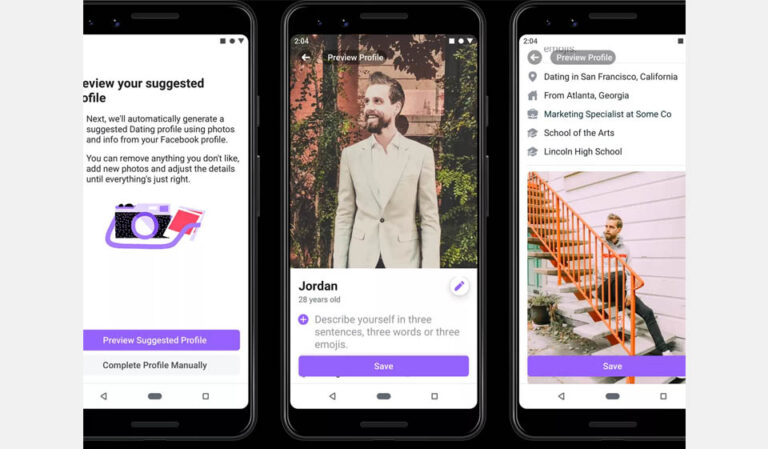 Security & Safety
Safety and security are of utmost importance when it comes to online platforms, especially those involving personal information and interactions with others. Facebook Dating recognizes this significance by implementing various measures to ensure the well-being of its users.
To begin with, Facebook Dating requires a thorough verification process for all its users. This means that individuals must provide their real names and profile pictures in order to create an account. This initial step adds a layer of authenticity, deterring potential scammers or those with nefarious intentions from joining the platform.
Moreover, Facebook Dating actively fights against bots and fake accounts through continuous monitoring algorithms. These algorithms use machine learning techniques to analyze user behavior patterns, identifying suspicious activities before they can pose any harm. By doing so, Facebook Dating strives to maintain a safe environment where genuine connections can be formed.
In addition to the verification process and anti-bot measures, an optional two-step verification feature is available on Facebook Dating. Two-step verification adds an extra layer of protection by requiring users to verify their identities through another device or method before accessing their accounts. This additional step ensures that only authorized individuals can log into their accounts, minimizing the risk of unauthorized access.
Privacy is also prioritized on Facebook Dating as photos uploaded by users are manually reviewed by human moderators. These moderators follow stringent guidelines set forth by Facebook's policies to ensure that no explicit or inappropriate content is disseminated within the app. By thoroughly reviewing all images before approving them for public display, Facebook Dating upholds a level of decency within its community.
Furthermore, transparency regarding privacy policies is paramount for any trustworthy platform. To this end, Facebook has provided comprehensive details about how users' information may be collected and used within the context of dating services offered on the platform.
Users have control over what data they choose to share and who can view it.
While Facebook Dating takes significant precautions in promoting safety and security among its users, there is always room for improvement in these areas. Enhancements could be made to strengthen the verification process, potentially implementing additional identification methods to further validate users' identities. Additionally, continued advancements in automated algorithms and technology can help better identify and prevent malicious activities on the platform.
In conclusion, Facebook Dating recognizes the importance of safety and security for its users. Through a robust verification process, anti-bot measures, two-step verification options, manual photo reviews, and transparent privacy policies, it strives to create an environment where individuals can connect with genuine intentions safely. Although improvements can always be made, Facebook Dating's commitment to maintaining these standards is commendable.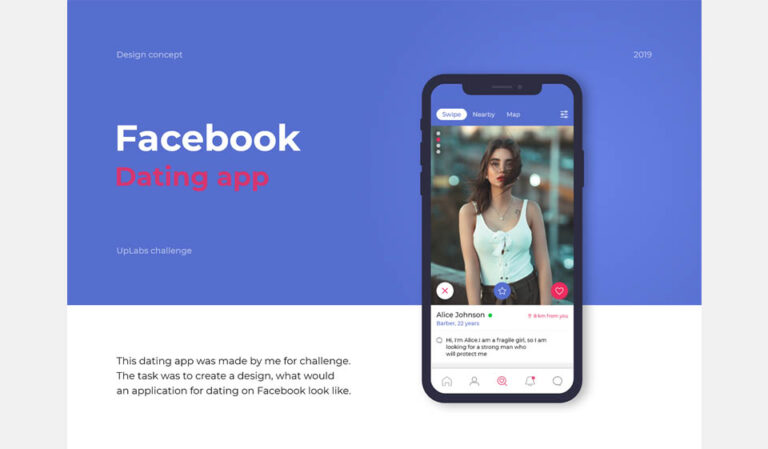 How Does Facebook Dating Work?
Facebook Dating is an online dating platform operated by Facebook, which was officially launched in September 2019. This feature was created to provide users with a more personal and meaningful way of connecting with potential romantic partners within the extensive Facebook community.
To access Facebook Dating, users need to create a separate profile specifically for dating. It is important to note that this new profile will not be visible to your existing friends on the social network unless you choose to opt-in and allow it.
Finding profiles on Facebook Dating is easy as it uses a combination of algorithmic recommendations and user preferences. The app suggests matches based on shared interests, mutual friends, and other factors such as location and age range. Instead of swiping left or right like many other dating apps, you can express interest in someone by commenting on their specific photos or answers to prompts provided on their profile.
In terms of user types, Facebook Dating caters to various demographics. Anyone who is at least 18 years old and has an active Facebook account can participate in this service. It welcomes individuals from diverse backgrounds, sexual orientations, and relationship goals.
Key features offered by Facebook Dating include Secret Crushes, Events & Groups integration, and Safety Measures:
Secret Crushes: This unique feature allows users to select up to nine people from their existing friends list whom they are interested in romantically but want to keep discreet. If one of those selected individuals also lists the initiator as their secret crush through the app, both parties will receive a notification revealing the match.
Events & Groups Integration: With Events & Groups integration, users have the option to see potential matches who share similar interests or are attending the same events as them.
This encourages offline connections based on shared activities or communities beyond just online interactions.
Safety Measures: To ensure user safety and privacy while using the app, Facebook implemented several protective measures. For instance, blocking someone within Dating will not affect interactions elsewhere on the platform. Additionally, unsolicited photos and links are automatically blocked to prevent harassment and scams.
Facebook Dating takes advantage of the vast user network within the social media giant to introduce individuals to potential partners who may be compatible based on various factors. By merging dating with existing features such as Groups and Events, it provides a more integrated approach to meeting new people with shared interests. With its commitment to user safety, Facebook Dating strives to create meaningful connections while maintaining a safe online environment for all participants.
Searching, Filters and Communications
How does the search function work on the FB Dating app? Facebook Dating, created by Facebook, offers users a comprehensive search tool to find potential matches. By using various filters such as age range, location, and interests, users can narrow down their search and discover suggested matches that align with their preferences. Moreover, individuals can communicate with these suggested matches through private messaging within the app.
The FB Dating app enables users to find and connect with other members who have opted into the dating feature within Facebook.
Facebook Dating was created to enhance the social platform by offering a dedicated space for users to discover potential romantic connections.
The app provides suggested matches based on shared interests, mutual friends, and preferences specified in the user's dating profile.
Users can communicate with other members through text-based messaging within the app, promoting interactions and fostering connections.
With privacy in mind, Facebook Dating allows users to opt out of matching with certain people, blocking them from seeing their dating profile or initiating conversations.
To make contact on the FB Dating app, users can utilize various search options and filters. By tapping on the magnifying glass icon, they can explore potential matches based on preferences like location, age range, gender identity, and common interests. The app also suggests compatible profiles tailored to one's likes and interactions within Facebook's ecosystem. Additionally, users have the option to connect with others through mutual friends or join groups centered around specific hobbies or activities.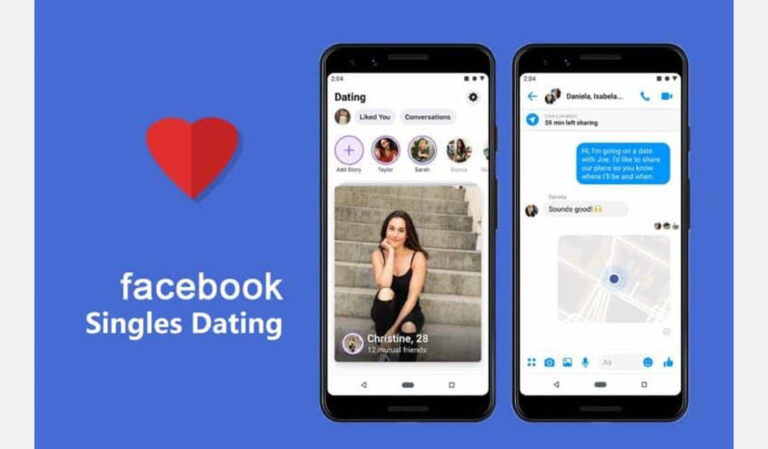 Pricing & Premium Membership on Facebook Dating
A paid subscription for Facebook Dating provides a range of benefits that enhance users' dating experience. With its competitive pricing, this service allows individuals to explore potential connections and relationships with added features and perks.
In terms of cost, Facebook Dating offers various subscription options, catering to different preferences and budgets. These plans provide access to additional tools and functionalities that can facilitate meaningful interactions on the platform.
For those who choose not to pay, Facebook Dating still remains accessible. However, it is important to note that the free version may have certain limitations compared to the premium options available. Users opting for unpaid usage might find themselves restricted in terms of messaging capabilities or miss out on exclusive features designed specifically for enhanced match exploration.
Compared to other dating platforms in the market, Facebook Dating offers a solid alternative with its extensive user base and diverse pool of potential matches.
While there are numerous competitors offering similar services at varying prices, Facebook's established presence in social networking adds an extra layer of convenience by integrating dating into an already well-known platform.
To make payment smoother for users, several payment methods are accepted when subscribing to Facebook Dating's premium offerings. These include commonly used methods such as credit cards, debit cards, and online payment processors—a wide range of options ensuring ease and accessibility for interested individuals.
Overall, taking into account the advantages brought forth by a paid subscription along with its reasonable pricing structure compared to other players in the market, exploring romantic possibilities through Facebook Dating presents itself as an appealing option worth considering.
| Subscription Option | Price (USD) | Features |
| --- | --- | --- |
| Basic | Free | Create a dating profile, browse profiles, send likes, match with people |
| Premium | $9.99/month | Connect with unlimited matches, receive read receipts for messages, access advanced matching features, remove ads |
| Gold | $19.99/month | Enjoy all Premium features, plus stand out with a gold profile badge, access exclusive filters and preferences |
Note: Prices and features may vary by region and are subject to change.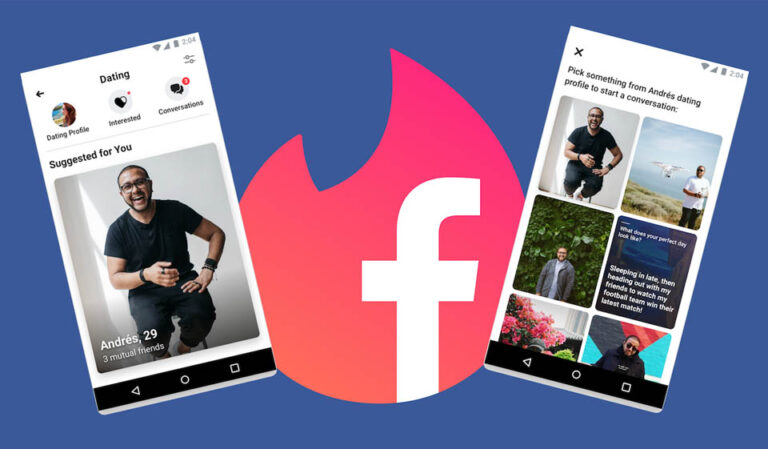 Who's on Facebook Dating?
Facebook Dating targets a diverse range of individuals across different demographics. While the platform is available to users worldwide, it primarily focuses on audiences within the age group of 18-34, capturing a sizable portion of younger adults who are active on Facebook. However, users above this age range also participate in the dating service.
The user base of Facebook Dating comprises people seeking both casual hookups and long-term relationships. Approximately 40% of users show an inclination towards developing meaningful connections, while others enjoy more casual encounters or simply want to explore potential matches without any specific commitment in mind.
As Facebook Dating has a global reach rather than catering specifically to one country or region, it appeals to a wide variety of cultural backgrounds and preferences.
The platform provides an opportunity for individuals all around the world to connect with like-minded people and seek romantic partners within their local communities or even abroad. This emphasis on broadening its appeal ensures that Facebook Dating can be utilized by anyone regardless of their location, fostering a cosmopolitan community engaged in finding love online.
Website
Facebook Dating does not have a standalone dating website. Instead, it is integrated within the Facebook app itself, providing users with an additional feature to explore potential romantic connections. The absence of a dedicated website for Facebook Dating can be attributed to several reasons.
One possible reason for not having a separate website is that Facebook aims to leverage its existing user base and infrastructure. With over 2.8 billion monthly active users as of the second quarter of 2021, Facebook already has a massive audience from which to draw potential matches. By integrating the dating service directly into their main platform, they can tap into this vast user base without the need for separate marketing and promotion efforts required for launching a standalone website.
Another factor that may have influenced this decision is convenience.
Since many people are already using the Facebook app on their smartphones or other devices on a daily basis, incorporating the dating feature within the app ensures easy access and seamless navigation between different functionalities without requiring users to switch applications or remember multiple logins.
Furthermore, integrating Facebook Dating into the main app eliminates any concerns related to trust and authenticity. Users' identities on Facebook are usually tied to their real names and profiles, making it less likely for fraudulent or fake accounts compared to some dedicated dating websites or apps where anonymity might be more prevalent.
From an overall perspective, while there isn't a specific website exclusive to Facebook Dating's services, incorporating it directly into the existing platform offers several advantages alongside some disadvantages. On one hand, being part of such a popular social media network grants exposure to millions of potential matches and enhances visibility among users who may not typically opt for traditional online dating platforms.
On the other hand, by solely relying on integration within an existing app rather than offering a distinct website experience tailored specifically towards dating, certain functionalities might be limited compared to what specialized dating platforms offer. Additionally, individuals seeking privacy or discretion in their dating endeavors could potentially find this lack of separation from their regular Facebook profile and activities as a drawback.
In terms of user experience, the integration allows for seamless browsing and matching potential partners within the familiar Facebook interface. The mobile optimization ensures accessibility on various devices, allowing users to connect with others on-the-go easily. However, it's important to note that while Facebook Dating emphasizes privacy controls, such as not showing matches to friends or followers by default, some users might still have concerns about their data and privacy given Facebook's past controversies related to personal information handling.
In conclusion, instead of having a dedicated website, Facebook Dating is incorporated into the main app to leverage its massive user base and provide convenient access for its existing community. While this integration offers advantages such as exposure to a large pool of potential matches and easy navigation within the app, there may be limitations compared to specialized dating websites or concerns surrounding privacy for those seeking more discreet dating experiences.
Facebook Dating features
Facebook Dating offers a variety of both free and paid features that contribute to its overall functionality as a dating site. Alongside the basic functionalities, such as creating a profile and browsing potential matches, Facebook Dating introduces unique elements known as "dating features." These dating features consist of Secret Crushes and the ability to suggest current Facebook friends as potential romantic connections.
Dating feature: Facebook Dating is a dedicated feature within the Facebook platform, providing users with a separate space for exploring potential romantic relationships.
Secret Crushes: This unique feature allows users to select up to nine of their existing Facebook friends, and if any of those friends also added them to their Secret Crush list, both parties will be notified of the match.
Dating site: Similar to other dating platforms, Facebook Dating offers users the opportunity to create a dating profile, including photos, personal information, and interests, in order to connect with others who share commonalities.
Facebook Dating matches: Through its matching algorithm, the platform suggests potential matches to users based on their preferences, such as location, interests, and mutual friends.
Suggest current Facebook friends: To foster connections, Facebook Dating can suggest friends from a user's existing Facebook network, aiming to facilitate deeper connections and utilizing shared connections as an icebreaker.
What Makes Facebook Dating Worth Trying
Extensive user base: With over 2.8 billion monthly active users, Facebook provides a vast pool of potential matches for online daters using the platform. This large user base offers a higher chance of finding compatible matches compared to other dating services or apps with fewer members.
Enhanced privacy and security measures: Facebook Dating has implemented several features to ensure user safety and privacy. It allows users to create a separate dating profile that is not visible to their friends or contacts on the main Facebook platform, providing a discreet and secure experience for online daters.
Integration with existing Facebook profile: By utilizing the information from a user's Facebook profile, Facebook Dating can offer more accurate matchmaking suggestions, taking into account shared interests, mutual friends, and similar communities. This integration enhances the overall matching algorithm and increases the chances of finding meaningful connections based on commonalities.
Interactive and engaging features: Facebook Dating provides a range of interactive tools that foster communication and connection between users. For instance, it offers conversation prompts to help break the ice, supports sharing Instagram posts directly within the dating profile, and enables video calls, creating a vibrant and immersive environment for online daters to engage with each other.
Events and group connection: Facebook Dating leverages the extensive events and groups functionality of the main Facebook platform. Users can choose to match with others attending the same events or belonging to shared interest groups, facilitating connections based on real-life interactions and common hobbies beyond traditional online dating profiles.
Cost-effective option: Facebook Dating is completely free to use, which sets it apart from many other dating services that often require subscription fees or impose additional charges for premium features. This makes it a compelling option for those seeking to explore online dating without financial commitments, and it also helps attract a diverse user base.
Help & Support
Users of Facebook Dating have access to various channels of support should they encounter any issues or require assistance. Firstly, a dedicated support page is available within the Facebook Help Center specifically addressing questions and concerns related to Facebook Dating. This comprehensive resource offers valuable information on various aspects of the platform, including setting up a profile, matching with potential partners, and managing interactions.
In addition to the support page, users can also contact Facebook Dating's support team through email for personalized assistance. By reaching out via email, users can communicate their specific queries or problems directly to the support staff who will promptly respond with relevant guidance or solutions. While response times may vary depending on the volume of inquiries received at any given time, typical wait times are relatively short due to the diligent efforts of the experienced support team at Facebook.
For those who prefer more immediate assistance, there is currently no phone number provided specifically for Facebook Dating customer support. However, considering that accessing help through email allows for efficient communication and thorough troubleshooting without requiring real-time conversations like those facilitated by phone calls; this method might be sufficient for most users' needs.
Furthermore, Facebook Dating has an extensive Frequently Asked Questions (FAQ) section where common queries from users are addressed in detail. This FAQ page covers a wide range of topics such as account setup, privacy settings, and safety practices within the dating platform. Users can quickly find answers to commonly asked questions without needing direct assistance from customer support representatives.
Comparatively speaking, when examining alternative online dating platforms' customer support services, it becomes evident that Facebook Dating holds its ground quite well.
Many other apps lack comprehensive self-help resources like detailed FAQs or dedicated user-support pages altogether. Some even rely solely on chatbots that provide generic responses instead of human interaction – which isn't ideal when dealing with individual circumstances and complex issues.
To sum up, Facebook Dating offers multiple avenues for acquiring necessary knowledge and resolving any difficulties encountered while using the platform effectively. With its dedicated support page, email communication option, in-depth FAQs, and reasonably fast response times, Facebook Dating demonstrates a commitment to ensuring user satisfaction and providing assistance whenever required.
Q&A
1. Is Facebook Dating legit?
Yeah, Facebook Dating is totally legit! It's like having a new dating app within the familiar Facebook world. I've had some fun and genuine connections on there, so definitely give it a shot if you're curious about meeting people through mutual interests and events on the platform.
2. What is Facebook Dating?
Facebook Dating is basically Facebook's own dating feature, where you can create a separate dating profile and connect with potential matches based on mutual interests and preferences. It lets you discover people in your wider social circle and explore romantic possibilities beyond just swiping right or left. Plus, it's all integrated into the familiar Facebook app, so it's pretty convenient!
3. How to sign up for Facebook Dating?
Alright, so signing up for Facebook Dating is a breeze! First, make sure you've got the latest version of Facebook app on your phone. Next, click on the three horizontal lines at the bottom right corner, scroll down and tap on "Dating", then follow the prompts to create your dating profile. Boom, you're ready to start swiping and mingling with potential matches!
4. How to register for Facebook Dating?
To register for Facebook Dating, simply open the Facebook app and tap on the hamburger menu (those three lines at the top-right corner), scroll down till you find "Dating", and click on it. Fill in some basic info like your preference and create a distinctive dating profile by adding photos and answering fun prompts – then voila! You're ready to dive into the world of Facebook Dating!
5. Is Facebook Dating trustworthy?
Yeah, I'd say Facebook Dating is pretty trustworthy. They've got some solid privacy settings that let you control who sees your profile and stuff, which is important when it comes to online dating. Plus, since it's connected to your Facebook account, there's a sort of built-in verification system that adds an extra layer of trust.
6. Is Facebook Dating any good?
Yeah, it's not too bad! While it doesn't beat other dedicated dating apps out there, Facebook Dating has potential. It's convenient if you're already on the platform and looking for something casual or even a relationship, but don't expect any mind-blowing features from it.
7. Can you send messages for free on Facebook Dating?
Yes, you can totally send messages for free on Facebook Dating! They don't charge a dime to spark up conversations with potential matches. So go ahead, shoot your shot and start chatting without worrying about any pesky fees!
Conclusion
In summary, Facebook Dating offers a convenient and accessible platform for individuals looking to explore romantic connections within their social network. By integrating dating features directly into the well-established Facebook interface, users can seamlessly navigate through an array of potential matches based on shared interests and compatible preferences.
One notable advantage of Facebook Dating is its emphasis on privacy and safety. With built-in features such as blocking and reporting options, users are empowered to feel secure while engaging with others. The integration of Secret Crush allows individuals to express interest in friends discreetly, fostering a sense of excitement without compromising personal relationships or publicizing intentions.
Moreover, the platform's utilization of detailed user profiles facilitates meaningful connections by providing valuable insights into a person's true identity beyond superficial attributes. Leveraging mutual friends and common interests helps establish common ground early on, enhancing the possibility of finding compatibility among potential matches.
Although Facebook Dating possesses numerous strengths, it also has some limitations. Currently only available in select countries, accessibility remains limited for certain regions worldwide. Additionally, the lack of desktop functionality restricts usage solely to mobile devices.
Nevertheless, Facebook Dating presents an opportunity for those seeking new romantic experiences within their existing online social circles. Its intuitive design coupled with robust safety measures makes it an enticing option for both casual daters and those seeking more profound connections alike. As this feature continues to expand globally and evolve over time, it will be intriguing to witness how it resonates with individuals on a broader scale.