Hey there, ever feel like finding a date online is harder than deciphering quantum physics? Well, get ready to toss that confusion out the window and meet your match with Hinge! 🌟 Forget swiping aimlessly through a sea of questionable profiles – this dating app claims it can connect you to people who are truly looking for something meaningful. But does it deliver on its promise or is it just another digital disappointment?
Time to dive into the wonderful world of Hinge and see if it lives up to the hype. Can't wait to spill all the tea on this one: Is Hinge really The One that will make you delete all other dating apps forever? Let's find out together! 💥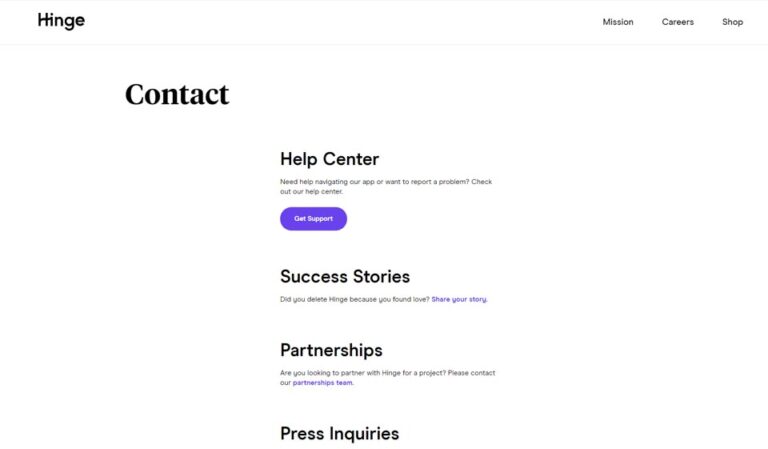 Pros & Cons
Pros
– Hinge has totally upped the dating app game with its unique "Designed to be Deleted" tagline, making it feel more like a genuine platform for finding a serious connection rather than just another mindless swipe-fest.
– The ability to add detailed prompts and answers on your Hinge account helps spark conversations that go beyond the generic small talk found on other dating apps, allowing you to connect on a deeper level right from the start.
– With Hinge's clever algorithm called "Most Compatible," you can skip wasting time with incompatible matches and focus solely on those with real potential – say goodbye to endless scrolling!
– Unlike many other dating sites, which might bombard you with an overwhelming amount of options, Hinge offers a streamlined selection of profiles each day based on your preferences — quality over quantity at its finest.
– While a premium membership is available with added perks like unlimited likes or access to advanced filters for specific qualities in your match, Hinge still provides plenty of features for free users without forcing anyone into paying.
Cons
– Hinge can be a bit slow in loading profiles and messages, making it feel like waiting for your crush to text you back.
– Although the quality of matches on Hinge is generally good, the number of potential matches may be limited compared to other dating apps.
– While answering prompts may allow users to showcase their personality, sometimes these prompts can come off as cheesy or forced, potentially leading to eye rolls rather than sparks.
– If you don't want others to know about your online dating exploits, it's worth noting that Hinge allows users to see when someone has looked at their profile – oops!
– While Hinge does offer a free version, some features are locked behind a paywall if you opt for the premium membership.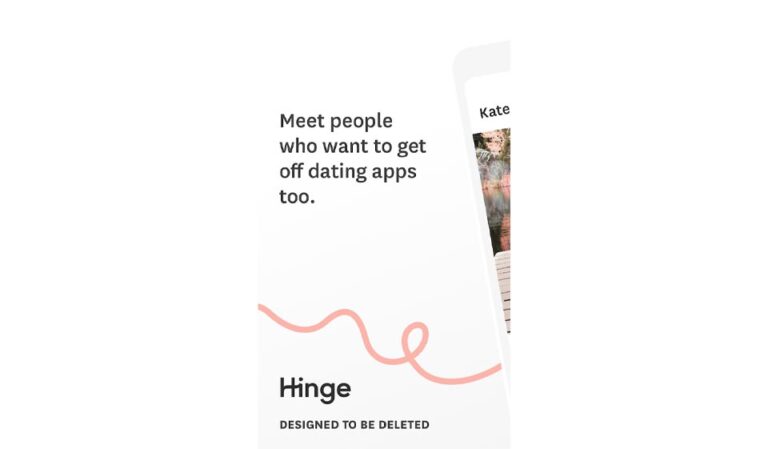 Security & Safety
Safety and security are of utmost importance when it comes to online dating platforms. Users want to ensure that their personal information is protected, and they can engage with genuine individuals who have been verified by the platform.
Fortunately, Hinge takes safety seriously by implementing various measures to maintain a secure environment for its users. One significant way Hinge ensures authenticity is through user verification. It requires all new members to verify their phone number or connect their Facebook account during the registration process. This helps weed out fake profiles, ensuring that users are interacting with real people.
Hinge also takes action against bots and fake accounts by employing advanced algorithms that detect suspicious activity and automatically block these accounts before they can cause harm or inconvenience.
To further enhance security, Hinge offers a two-step verification option for added protection. This feature provides an extra layer of defense, requiring users to confirm their identity via email or text message each time they attempt to log in from an unrecognized device.
In terms of photos displayed on profiles, Hinge manually reviews them before allowing them to go public. This review process helps prevent inappropriate or offensive content from being shared on the platform, creating a safer space for everyone involved.
Furthermore, Hinge has a comprehensive privacy policy in place that outlines how users' data is collected, stored, and used. The policies emphasize protecting sensitive information while being transparent about data practices—a crucial aspect in establishing trust within the user community.
While Hinge has implemented commendable safety features within its platform, there is always room for improvement.
One area where enhancement could be considered is in providing more tools for reporting and blocking abusive or offensive users swiftly. Expediting response times would contribute significantly towards fostering a safe space where every member feels comfortable expressing themselves without fear of harassment or discrimination.
Additionally, continued efforts should be made by Hinge's moderation team to efficiently identify potential red flags early on—such as scammers attempting to exploit vulnerable individuals—and proactively take measures to protect users before any harm can occur.
In conclusion, Hinge takes safety and security very seriously by implementing user verification procedures, fighting against bots and fake accounts, offering two-step verification, manually reviewing photos, and maintaining a clear privacy policy. While these efforts are commendable, there is always room for improvement in terms of quicker response times to reported concerns and more proactive identification of suspicious activities. By continuously prioritizing safety, Hinge can create an even better dating experience for its users.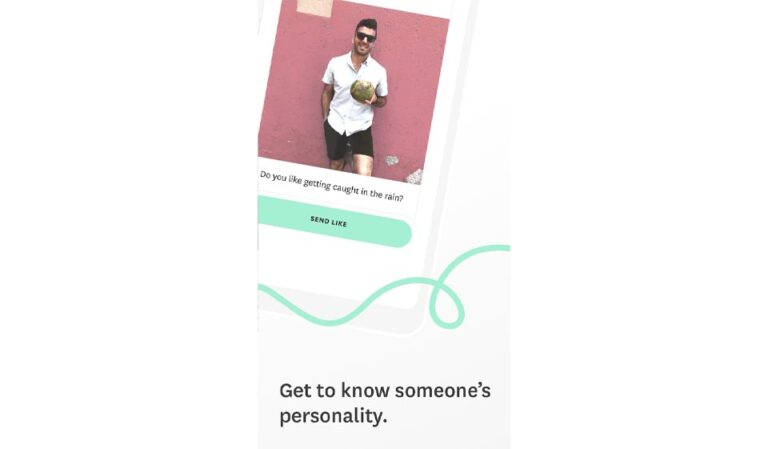 Pricing & Premium Membership on Hinge
A premium membership on Hinge offers several benefits that can enhance your overall experience on the dating app. The paid subscription grants you access to exclusive features and allows you to make the most of your time using Hinge.
When it comes to pricing, Hinge's premium options are quite competitive in the market. They offer different tiers of subscriptions, including a preferred membership which is billed monthly. This flexibility enables users to choose a plan that suits their preferences and budget.
However, it's worth mentioning that while there are advantages to purchasing a paid subscription, Hinge can still be used without paying. Non-paid users have basic functionality like creating profiles and browsing matches. Nevertheless, the unpaid option limits certain features and opportunities compared to those who opt for a premium membership.
By investing in a paid subscription, you can benefit from enhanced recommendations tailored explicitly towards your interests and preferences. These upgraded suggestions increase the likelihood of finding meaningful connections with individuals who share common values or hobbies.
To accommodate various payment preferences, Hinge accepts multiple methods for its premium memberships. Users can conveniently pay through credit card transactions or opt for other available online payment platforms accepted by the app.
In summary, deciding whether or not Hinge Premium is worth it ultimately depends on each individual's personal goals and desires within their dating journey. While free usage provides an entry-level experience, opting for a paid subscription unlocks additional features and possibilities that may significantly improve your chances of finding genuine connections on this popular dating platform.
| Subscription Plan | Price | Features |
| --- | --- | --- |
| Free | $0 | – Set up a profile with photos and basic information. – Swipe through potential matches in the "Discover" section. – Send likes and comment on prompts or photos to express interest. |
| Hinge Preferred | $19.99/month | – All features of the free plan. – Get unlimited likes to swipe right as much as you want. – See who likes you and start conversations instantly. – Access to more filters for refining your match preferences. |
| Hinge Premium | $29.99/month | – All features of the Hinge Preferred plan. – Receive one "Rose" each month allowing you to show extra interest in someone special. – Navigate your likes and messages with ease using advanced insight and organization features. |
Hinge features
Hinge offers both free and paid features that cater to users' needs, with several unique functionalities distinguishing it from other dating platforms. From video chat capabilities to conversation starters and photo uploads, Hinge provides a comprehensive experience for individuals crafting their best dating profiles.
Potential Matches: Hinge provides curated potential matches based on your preferences and social connections, offering higher chances of compatibility.
Video Chat: Users can engage in virtual dates through the in-app video chat feature, allowing for meaningful connections despite distance or current events.
Conversation Starters: Hinge offers unique and creative conversation starters that help break the ice and initiate engaging discussions with potential matches.
Uploading Photos: Users have the ability to upload multiple photos to their Hinge profiles, enabling a more comprehensive representation of themselves and attracting potential matches.
Hinge Profile: The platform allows users to create a detailed and informative dating profile, showcasing their personality, interests, and preferences in a visually appealing way.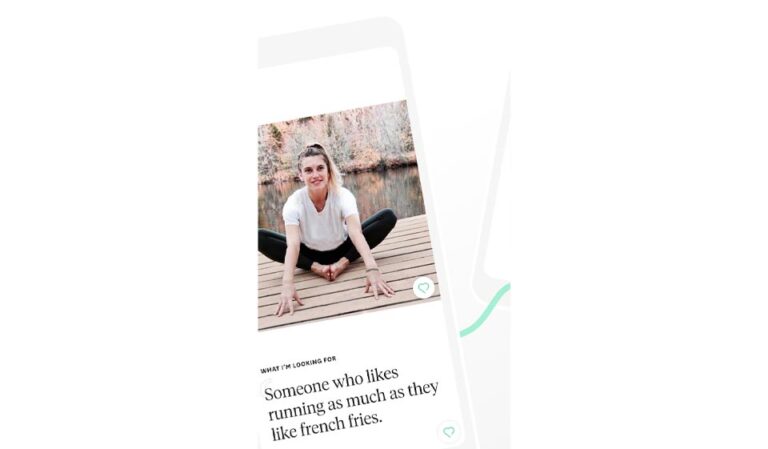 How Does Hinge Work?
Hinge is a dating app that was created in 2012 by Justin McLeod. Inspired by his own personal experiences and frustrations with the superficiality of other dating apps, McLeod set out to create a platform that prioritizes meaningful connections.
Unlike many other dating apps, Hinge focuses on helping users find long-term relationships rather than casual flings. It aims to foster genuine conversations and deeper connections between individuals.
To begin using Hinge, users must first create a profile. This involves uploading photos and providing information about themselves – such as their age, location, occupation, and education background – to help potential matches get an understanding of who they are.
Profiles on Hinge can also include prompts or questions for users to answer which serve as conversation starters.
These prompts can range from "Two truths and a lie" to "The key to my heart is…" Users have the freedom to choose which prompts they want to display on their profile.
One distinctive feature of Hinge is its algorithm which determines who you see and how likely you are to match with someone. The algorithm takes into account factors like your preferences, activity on the app, mutual friends (if any), and previous behavior when suggesting potential matches.
Once profiles are created, users can explore other profiles within their specified criteria such as age range or location. To express interest in someone's profile, users can either like specific parts of it (such as individual photos or answers) or send a direct message if the person has matched with them.
What sets Hinge apart from other dating apps is its focus on creating engaging conversations rather than just swiping right or left based solely on appearance. Instead of endless swiping through pictures, Hinge encourages active participation by prompting users to interact more meaningfully through comments or likes on specific aspects of profiles.
Hinge offers various features designed to enhance user experience. One such feature is "Most Compatible," where the app suggests a match that is predicted to have a higher likelihood of forming a lasting connection. Hinge also provides features like "Discover" which allows users to explore more potential matches outside their specified criteria.
In summary, Hinge is a dating app designed for individuals who are interested in meaningful connections and long-term relationships. Its unique algorithm, profile prompts, and emphasis on genuine conversation set it apart from other apps in the market. Whether you're looking for love or companionship, Hinge offers users an opportunity to showcase their personality and intentions while actively engaging with others seeking similar dating goals.
Searching, Filters and Communications
Are you wondering how the search, filters, and communication features on Hinge work? Hinge offers a user-friendly platform that allows individuals to easily navigate through potential matches by utilizing its algorithm. Users can personalize their profiles by uploading photos and specifying their dating intentions, providing a comprehensive overview of themselves within the Hinge community.
Hinge offers a user-friendly interface with an intuitive search feature, making it easy to find other members based on preferences such as location, age, and interests.
Utilizing hinge's algorithm, users are provided with suggested matches that align with their dating intentions and compatibility factors, enhancing the chances of meaningful connections.
Uploading photos to one's hinge profile is simple and straightforward, allowing users to showcase their personality and appearance to attract potential partners.
Hinge promotes open communication by providing messaging options within the app, enabling users to conveniently connect and get to know each other better.
With various prompts and personal information available on profiles, Hinge facilitates conversation starters, aiding in building engaging and genuine connections.
To make contact on Hinge, users can utilize the various search options and filters available. They can browse through potential matches by adjusting criteria such as age range, location, education level, and ethnicity. Hinge's algorithm then suggests profiles that align with these preferences. To stand out among others, individuals should ensure their hinge profile is well-crafted and engaging. Uploading photos showcasing different aspects of one's life can also increase the likelihood of making a connection. Lastly, it is essential to be clear about dating intentions in order to find someone who shares similar goals for a relationship.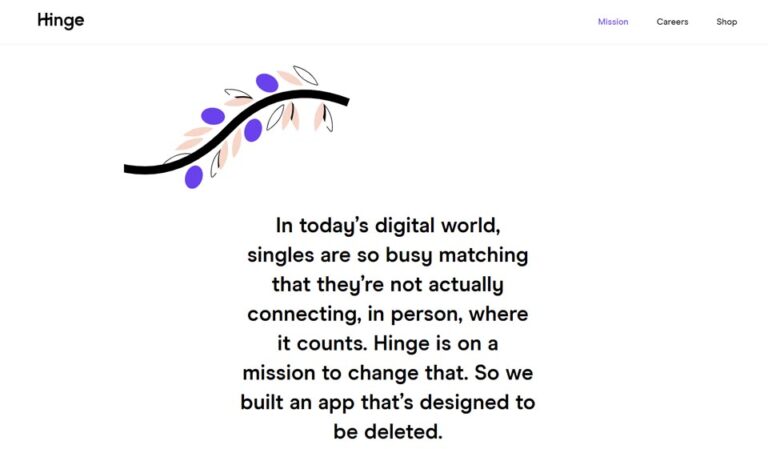 Signing up
To register on Hinge, you need to follow a straightforward process that guarantees easy access to this popular dating app. Firstly, it is important to note that in order to create an account on Hinge, you must be at least 18 years old. This ensures compliance with legal age restrictions for online dating platforms.
The registration process on Hinge is free of charge. You won't encounter any hidden fees or subscription requirements during the initial sign-up phase. However, certain premium features and services may come at an additional cost later on if you choose to upgrade your account.
To begin the registration process, simply download the Hinge app from either the Apple App Store or Google Play Store depending on whether you have an iOS or Android device respectively. Once you install and open the app, you will be prompted to log in with your Facebook or phone number credentials.
The majority of users choose Facebook as their preferred login method due to its convenience.
After choosing your login option and confirming your identity via two-factor authentication (if applicable), it's time to set up your profile. In terms of personal information required by Hinge during registration, much of it will already be pre-filled based on data retrieved from your Facebook profile.
Next comes the part where Hinge differentiates itself from other dating apps: creating prompts and selecting photos that showcase various aspects of your personality instead of solely relying on superficial images. This approach aims to foster more meaningful connections within the Hinge community.
You will be asked to provide answers and responses which can include anything ranging from hobbies and interests to quirky facts about yourself. These prompts encourage members to delve deeper into personalities rather than focusing solely on physical appearance.
In addition, uploading quality pictures is highly recommended as they play a crucial role in attracting potential matches.
It is advised not only because attractive visuals catch attention but also because profiles without pictures often deter other users from engaging further.
Once all necessary fields are filled out satisfactorily, and appealing photos are selected, you can proceed to finalize the registration process. It's important to review your profile before submitting it for approval by Hinge's moderation team.
Once approved, your Hinge account becomes active, granting access to a wide range of potential matches within the online dating community. Remember that profiles on dating apps attract more attention when they are frequently updated with fresh content about lifestyle changes, new hobbies, or simply showcasing different facets of your personality.
In conclusion, registering on Hinge is a streamlined and free process that begins with downloading the app. Throughout registration, you have the opportunity to create an engaging profile using prompts and carefully chosen pictures. By ensuring that your profile stays up-to-date and appealing over time, you maximize your chances of connecting with other like-minded Hinge users in pursuit of meaningful relationships.
Must access the Hinge website or download the Hinge app from a trusted source to sign up
Create a Hinge account by providing personal information such as name, gender, email address, and desired password.
Agree to the terms and conditions of using the Hinge platform, including following community guidelines and privacy policies.
After registration, complete the setup process by answering prompts and questions that help build your dating profile on Hinge.
Add high-quality photos on your profile to attract potential matches.
Craft a unique and thoughtful bio that reflects your personality and interests.
Optional: Connect your Facebook or Instagram account to import additional profile information and showcase more of your social media presence.
Explore the different features of Hinge like matching, messaging, and discovering other Hinge users through their profiles.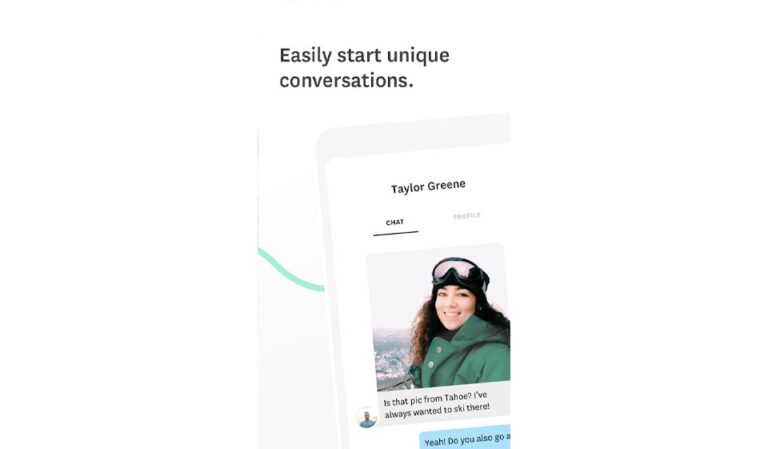 User Profiles
Hinge, like many other dating apps, allows users to create and customize their profiles to showcase their personality and interests. These user profiles on Hinge serve as a central hub where individuals can learn more about each other before making a connection.
The profiles on Hinge are generally public, meaning that anyone who has an account on the app can view them. However, it's important to note that only users who have matched with each other have the ability to engage in conversation or send messages. This ensures a level of privacy and control over interactions.
One of the key features of Hinge is its emphasis on personalization. Users can set a custom bio within their profile, providing an opportunity for self-expression and creativity. It allows individuals to share interesting details about themselves or highlight what they are looking for in a potential partner.
Location information plays a significant role in Hinge profiles. By default, a user's general location is displayed, helping others get an idea of how close or far someone is from them geographically. However, Hinge also offers settings that allow users to hide their distance preferences if they choose not to disclose this information.
As for premium subscriptions on Hinge, there are indeed benefits associated with upgrading to such membership levels. With premium subscription options like "Preferred" or "Premium," users gain access to additional features such as seeing who likes them even before matching, advanced filters for searching specific criteria (e.g., height), unlimited likes per day, and being able to rematch with expired connections.
When it comes to fake profiles on any social platform or dating app – including Hinge – it's essential to remain cautious but know that efforts are made by the developers to minimize these occurrences. While no system is completely foolproof against fake accounts occasionally slipping through the cracks, active moderation practices and community reporting mechanisms help maintain security and reduce the presence of fraudulent profiles.
In terms of privacy settings available on Hinge profiles: users have control over what information they share and who can see it. Hinge offers various privacy preferences that allow individuals to customize their profile visibility, including the ability to hide or show specific aspects such as education, work experience, or political beliefs.
Signing up on Hinge is straightforward; users can create an account either through their Google credentials or by using their existing Facebook profiles. This convenient sign-in feature saves time and ensures a seamless onboarding experience for new members.
In conclusion, Hinge user profiles are public but only accessible to matched individuals for engagement purposes. Custom bios, location information, premium subscription benefits, and privacy controls are all integral parts of these profiles. With an emphasis on personalization and security features in place to minimize fake accounts, Hinge aims to facilitate genuine connections within its user community.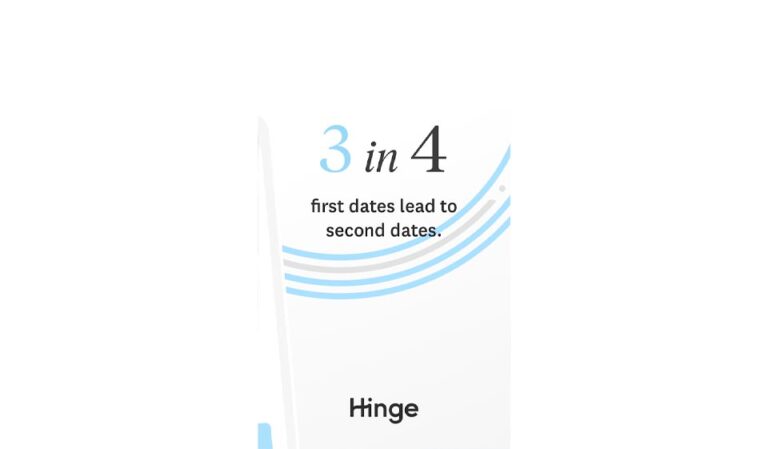 Who's on Hinge?
Hinge, a popular dating app, targets a diverse range of demographics. Its user base predominantly consists of young adults seeking meaningful connections and long-term relationships rather than casual hookups. The average age of users on Hinge tends to fall between the mid-20s to early 30s demographic, making it an ideal platform for those who are more serious about finding a compatible partner.
While Hinge primarily focuses on English-speaking users in countries like the United States, Canada, Australia, and the United Kingdom, its reach extends globally. This allows individuals from various backgrounds and cultures to connect with each other through the app's user-friendly interface and unique features. Unlike some apps that cater specifically to certain nationalities or ethnicities, Hinge promotes inclusivity and embraces diversity by bringing together people worldwide who share common relationship aspirations.
Hinge aims to distinguish itself from other dating platforms by fostering genuine connections based on shared interests and values. It caters to millennials and younger generations seeking authentic relationships in an increasingly digital world. With its emphasis on meaningful interactions over superficial swiping, Hinge provides a refreshing alternative for individuals looking for lasting love rather than fleeting encounters; thus promoting a community that is sincere in their desire for committed partnerships.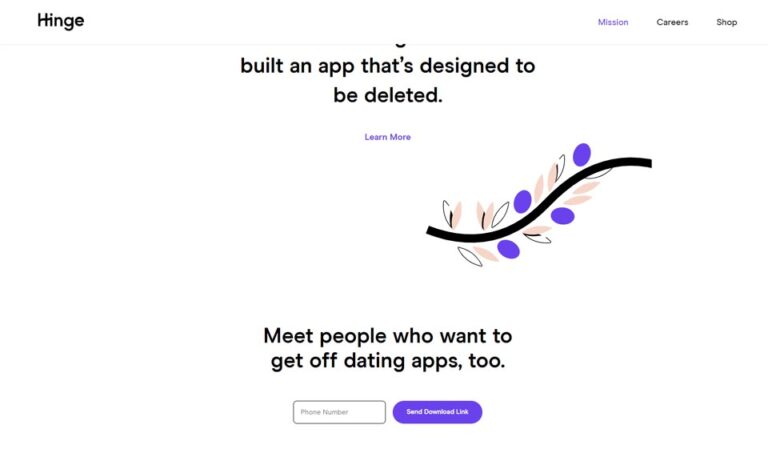 Help & Support
Users can access support for Hinge through various channels, ensuring they have multiple options to seek assistance. One avenue is the dedicated support page provided by Hinge on their website. This page offers a wealth of information and resources to address common queries and concerns that users may have.
For those seeking more personalized help, Hinge also provides the option to contact their support team via email. Users can reach out to them with any specific questions or issues they may be experiencing and expect a prompt response from the team. The average response time for emails sent to Hinge's support team is typically within 24-48 hours, ensuring that users do not need to wait excessively for assistance.
In addition to email support, Hinge extends its commitment to providing comprehensive assistance by offering a phone number that users can call directly. This direct line of communication allows individuals to engage in real-time conversations with knowledgeable representatives who are equipped to offer guidance and resolve any problems encountered on the platform.
To further facilitate self-guided troubleshooting, Hinge features an extensive FAQ (Frequently Asked Questions) section on their support page. Here, users can find answers related to account management, settings customization, messaging features, profile guidelines, and much more. By browsing this page, many users are able to quickly resolve commonly faced challenges without needing direct interaction with customer support.
Compared to other services in the dating app realm, Hinge's support offerings demonstrate an exceptional commitment towards user satisfaction and issue resolution.
While some competitors may solely rely on automated responses or community forums for addressing user inquiries, Hinge goes above and beyond by providing a diverse range of channels through which individuals can seek professional assistance.
Furthermore, the responsive nature of Hinge's support team sets it apart from alternatives who often take longer periods of time before acknowledging user inquiries or fail at adequately addressing them. With their prompt response times via both email and phone calls coupled with easily accessible FAQs as self-help resources, Hinge elevates the support experience for its users.
In summary, Hinge recognizes the importance of providing robust support options to its users. By offering a dedicated support page with comprehensive FAQs, prompt email responses, and direct phone communication, Hinge ensures that users have multiple avenues through which they can seek assistance and find resolutions to their questions or concerns. This level of commitment distinguishes Hinge's support offerings as exemplary within the dating app industry and serves as an invaluable resource for optimizing user experiences on their platform.
What Makes Hinge Worth Trying
1. Focus on meaningful connections: Hinge stands out among other sites and apps by placing a strong emphasis on fostering meaningful connections rather than casual encounters. Its algorithm is designed to match users based on shared interests, beliefs, and values, increasing the chances of building deeper connections.

2. Designed for serious relationships: Unlike many other dating platforms that cater to various types of relationships, Hinge positions itself as a platform for individuals seeking serious, long-term relationships. It creates an environment where users can confidently connect with others who share similar relationship intentions.

3. In-depth user profiles: Hinge allows users to showcase their personalities through well-crafted profile prompts and questions, enhancing the opportunity for genuine connections. This feature sets it apart from other platforms where profiles may lack substance and depth.

4. Thoughtful matching system: By considering various factors beyond superficial appearance, Hinge's matching system ensures compatibility and aligns users with potential partners who share common interests or values. This approach increases the likelihood of forming lasting connections.

5. Interactive conversation starters: Hinge's unique "commenting" feature encourages engaging conversations right from the start. Users can respond directly to individual photos or prompts on someone's profile, facilitating more meaningful and personalized interactions compared to generic messages often found on other dating platforms.

6. Positive and respectful community: Hinge puts a strong emphasis on maintaining a positive and respectful community. To achieve this, it actively moderates its platform, fosters transparency, and encourages users to be kind, which ultimately promotes healthier and more authentic relationships.
Website
Hinge, unlike many other dating platforms, does have a website. The website serves as an additional platform for users to access their accounts and interact with potential matches.
The Hinge website offers a similar experience to its mobile app counterpart, allowing users to create and edit their profiles, browse through profiles of others, like or comment on individual elements of someone's profile (such as photos or answers to prompts), and send messages to initiate conversations. This multi-platform approach enhances user convenience by providing the flexibility to use Hinge on both desktop and mobile devices.
One advantage of using the Hinge website is the larger screen size that allows for easier navigation and enhanced visual experiences compared to the confines of a smartphone screen.
Users can quickly view multiple profiles at once without having to constantly swipe. Additionally, typing out messages may be more efficient on a keyboard than on a small touchscreen device.
Furthermore, accessing Hinge from a computer eliminates some limitations commonly associated with smartphones, such as battery life concerns or relying solely on limited data plans. It can also allow users who prefer typing over texting from their phones to communicate more comfortably.
However, it is important to note that although Hinge has made efforts in optimizing the site for desktop usage, it still remains primarily designed for mobile interaction.
Some features and gestures familiar from the app might not translate seamlessly onto the bigger screens since they were initially intended for touch-based interactions rather than mouse or trackpad controls.
Despite this minor disadvantage concerning usability translation between platforms, the Hinge website overall provides users with an additional avenue for finding potential connections while catering to those who prefer utilizing traditional computers or laptops over mobile apps alone. Whether accessed via website or app, users can expect a streamlined interface aimed at facilitating meaningful connections in today's digital dating landscape.
Design & Usability
The design and color scheme of Hinge exude a modern and sleek aesthetic that enhances the overall user experience. With its vibrant hues and clean interface, Hinge creates an engaging environment for individuals seeking meaningful connections.
Upon landing on the site, one is greeted with a visually appealing layout that combines warm tones with subtle pops of color, providing a sense of warmth and approachability. The use of soft pastels not only contributes to an attractive visual representation but also imparts a calming ambiance throughout the platform. This meticulous attention to detail showcases Hinge's commitment to creating an inviting space where users feel comfortable exploring potential matches.
In terms of usability, Hinge excels in simplicity and ease-of-use. Navigating through profiles and features is a breeze, thanks to intuitive placement and straightforward labeling. Whether you're new to online dating or well-versed in digital platforms, finding your way around Hinge is seamless.
The primary focus lies in bringing people together based on shared interests, beliefs, or values rather than solely relying on superficial factors. By curating prompts that serve as conversation starters within each profile, Hinge enables users to showcase their personality beyond just photos.
This unique approach fosters genuine interactions while reducing the emphasis often placed on physical appearances alone.
While Hinge offers an impeccable free version that covers most essential functionalities required for successful matchmaking experiences, upgrading to a paid subscription bolsters its UI even further. Subscribing unlocks additional benefits such as advanced filters, unlimited likes/dislikes per day, access to read receipts for messages sent, and more refined search options.
Overall, Hinge's thoughtfully designed colors and intuitive usability catapult it into becoming one of the top contenders within the realm of online dating applications. From its meticulously crafted visuals to its user-friendly navigation system, every aspect intertwines seamlessly into offering individuals an enjoyable virtual dating experience.
Similar Sites & Apps
While Hinge has gained popularity as a dating app, there are several hinge alternatives that offer similar experiences. Other dating apps and sites like Bumble, Tinder, OkCupid, or Match.com cater to diverse preferences and provide exciting opportunities to connect with potential matches. Exploring these options ensures finding the favorite dating app suited for individual needs.
Hinge alternatives:

Other dating apps:

Other dating sites:

Favorite dating apps:
Q&A
1. Is Hinge a scam?
No, Hinge is not a scam! As an online dating expert who tried the Hinge app myself, I can confidently say that it isn't one. While there may be occasional fake accounts or profiles like with any dating app, Hinge generally works well and even offers a premium membership for enhanced features.
2. How many users does Hinge have?
Hinge, the dating app I reviewed, has gained a substantial user base with many active members. While I can't give you an exact number, the Hinge dating app seems to be thriving. However, like any platform, it's important to stay cautious and report any suspicious fake accounts or profiles that may pop up along the way.
3. Is Hinge any good?
Hinge, in my opinion as a dating expert, is actually pretty good! The Hinge app offers a fresh take on online dating and it's user-friendly. I appreciate that they actively work to eliminate fake accounts and profiles, making the overall experience more reliable and enjoyable. Plus, their premium membership offers some extra perks for those looking to take their dating game up a notch.
4. How to find people on Hinge?
Alright, so here's the deal with Hinge: finding people on this awesome dating app is a breeze! Just hop onto the Hinge app and start swiping through profiles that catch your eye – it's like window shopping for potential dates. And hey, if you're curious about someone, consider opting for the Hinge premium membership to unlock more features and get an edge in your search. Don't sweat fake accounts or profiles either; Hinge has got some solid measures in place to keep those pesky fakers at bay. Happy browsing, folks!
5. What are Hinge alternatives?
If you're tired of the same old dating apps, there are a few Hinge alternatives worth checking out. While Hinge is a solid choice with its thoughtful approach to online dating, other options like Bumble and OkCupid offer similar features and vibrant user bases. Just keep in mind that regardless of which app you choose, be wary of fake accounts or profiles – it's unfortunately an issue across multiple platforms!
6. Can you send messages for free on Hinge?
Yes, you can totally send messages for free on Hinge! Unlike some other dating apps, Hinge doesn't lock you behind a paywall to chat with potential matches. This is great news because it keeps the conversation flowing without any annoying restrictions. Plus, Hinge takes your safety seriously and actively works to weed out fake accounts or profiles, so you don't have to worry about running into any sketchy situations while swiping through their app.
7. How to cancel subscription on Hinge?
To cancel your subscription on Hinge, follow these easy steps: go to the settings section in your Hinge app, select "Account," and then hit "Cancel My Subscription." It's that simple! No more worries about fake accounts or profiles with Hinge – just a smooth cancellation process for their premium membership.
Conclusion
In summary, Hinge presents itself as a popular dating app with its unique features and user-friendly interface. With its emphasis on fostering meaningful connections through thoughtful prompts and interactive profiles, it offers users a refreshing alternative to more casual options in the online dating sphere. The platform's compatibility algorithm appears to contribute positively towards matching individuals based on shared interests and values, although success rates may vary.
While some users appreciate the focus on authenticity and personal growth, others find the limited number of daily matches somewhat restrictive. Despite occasional glitches or technical issues reported by certain users, Hinge generally maintains a solid reputation for providing an engaging and enjoyable dating experience. Overall satisfaction seems to be influenced by individual preferences towards relationship goals and attitude towards actively pursuing potential matches.